Amazing Grace Orphans and Widows Care Center
May 2014 Kenya Trip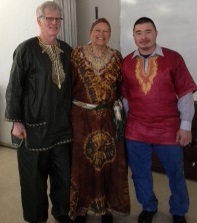 On Sunday, March 6, a Rice and Beans benefit luncheon was held at the First Baptist Church. About 75 supporters of the Amazing Grace Orphans and Widows care center met over a lunch of rice and beans dishes that they brought and learned about how God is working at the Care Center. As a result of the luncheon, $2331 was collected for the completion of the dormitory at the center.
Mark Deuser, pictured above to the left (along with Kathryn Deuser), gave a 20 minute presentation on the center and plans for the upcoming trip to center in Kenya in May. Also travelling to the center is Travis Humburg, pictured to the right.
When Mark and Travis arrive in Nairobi next Wednesday, they will be bringing supplies shown below to the center. The picture below on the left shows the materials in a basket and the black shirts below the basket are 10 staff shirts with the letters of the center. They are bringing 21 toiletry kits for the ladies, shown in the center picture and 20 school kits for the children. We would like to recognize the FBC Womens Baptist for collecting the supplies for the women and center, and the FBC youth for collecting the supplies for the school kits. In addition, FBC has provided $1000 support to help defray the travel expenses for Mark and Travis.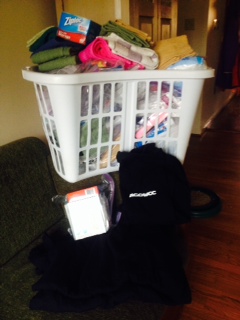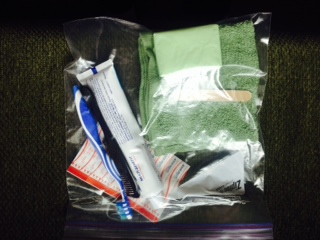 Other items that are being brought:
15 pair socks
36 mini crayons
80 pencil top erasers; 1 eraser
100 index cards
100 pencils
18 pens
1 compass
20 marking pens (highlighter and sharpies)
300 bandaids
30 large bandages
1 elastic bandage
200 cotton balls
10 hand towels, 2 washclothes
4 mosquito repellents
6 bengay
300 aleve caplets
8 bacitracin
1 thermometer (5 batteries)
1 mosquito net
200 Acetaminophen 500 mg
206 chewable asprin 81 mg
100 asprin 325 mg
4 soccer balls
1 pump

The plane trip over to Kenya will take 16 hours and Anderson Olero, Pastor Raphael's 26 year old son, will be meeting and escorting Mark and Travis. Anderson, is taking a week of vacation to escort Mark and Travis thought out their visit. They will spend an overnight in Nairobi and then take a 6 hour bus trip across Kenya through the Rift valley, seeing broad vistas and coffee fields. They will stay at the center.

While they are there, they will meet the Olero family, meet the center staff, meet the ladies and children, present the gifts to the ladies and children, work in the fields, plan with the staff, dedicate the dormitory, go to church and tour the area: the city of Kisumu, the hippo ponds, Kakamega Rain Forest, and the village of Pap Onditi where the center is located.

On the following week, they will return to Nairobi for the flight home.