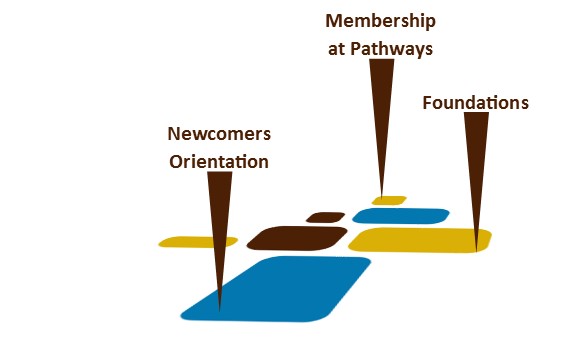 Here is a good first step ...
NEWCOMERS ORIENTATION! — We offer two (2) - 120-minute group sessions (2 hours each class), that explain who we are and what we believe.
The orientaiton sessions are offered three (3) times during the year; in the fall, winter, and spring. The class meets on Sundays following worship (from 12 Noon until 2:00pm).
This is a great opportunity to learn about Pathways and meet others, in a friendly atmosphere with
others who are interested too!

For additional information, please contact Pastor Paula Moutsos, Discipleship Pastor
FREQUENTLY ASKED QUESTIONS ABOUT DISCIPLESHIP

Why join a church?
The Bible say that when you belong to Christ you are no longer "strangers" you are part of God's family; a community.
The church is where you learn to "be more like Jesus," but it's a lifelong process.
What does it mean to "be like Jesus"?
This means that our actions, our attitudes, our thoughts, our character, our minds are like His.
How do know it's working?
The Bible quantifies this goal as: love, joy, peace, patience, kindness, goodness, faithfulness, gentleness, and self-control (Galatians 5:22) increasing in our lives and interactions with others.
What if I believe Jesus Christ was a great person and teacher; does that make me a disciple?
Considering Jesus Christ merely on the basis of an exemplary life and His superior moral teaching is not enough.
The real test of what one thinks of Him must revolve around who He claimed to be and what He accomplished during His brief time here on earth.
So...
Who is Jesus Christ to you?
Let's talk! Contact Paula Moutsos