Choirs for Pre-School to Grade 5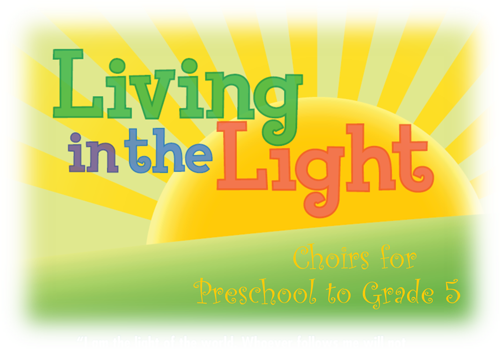 No mode of learning or expression is more natural to the child than music.
Following a fun, light-themed kick-off party, the songs and activities of the fall semester will point children toward Jesus, the Light of the World. We will lead them through the season of Advent to Christmas, when we celebrate His coming as the Light of the World.
The focus of the spring semester will shift toward knowing Jesus and becoming a reflection of His light, recalling His words, "You are the light of the world." (Matthew 5:14) Using song texts, scriptures, and activities, the goal is to lead children to an understanding of how to show the Light of Jesus in their everyday lives so that others will clearly see that Light.
The SonShine Choir for preschoolers focuses on games, activities and simple songs.
The Music Makers for kindergarten to grade 2 add more instrumental opportunities and occasionally lead in Sunday morning worship.
The Young Musicians for grades 3 to 5 sing more multi-part music and lead in Sunday morning worship most frequently.
All three groups lead in special programs at the end of the fall and spring semesters.
Register Your Child For a Choir